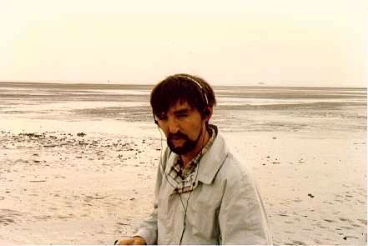 IGOR KORNEITCHOUK, born in Madrid, Spain, 1956, of Russian and German descent, emigrated to the U.S. at the age of three. A founding member of the performance art group touch me hear, he is interested in exploring the boundaries between music, technology, nature, performance and audience participation. At home he, his family and pet turtle are surrounded by wind chimes.
The sound designer (above) searching for found objects -- both natural and sonic -- on a visit to the east coast of the Baja Penninsula, near San Felipe, Mexico.
Igor Korneitchouk is currently a Professor at San Diego Mesa College. Visit him at his home page!