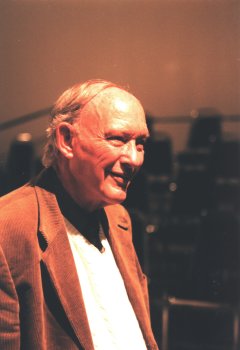 WILL OGDON was born in Redlands, California, in 1921, but grew up in the Midwest where he received his education. Graduate studies were at University of Wisconsin, Hamline University in St. Paul, Minnesota, and the University of Indiana. He also studied composition in Paris with René Leibowitz on a Fulbright scholarship.
Ogdon returned to Southern California in 1966 to found a revolutionary new music department at the University of California, San Diego (UCSD).
In 1991, he retired from UCSD to become a bohemian full-time composer. The release of this CD was timed to coincide with his 80th birthday. Will passed October 6, 2013. He was 92.