The GMEA (Groupe de Musique Electroacoustique d'Albi-Tarn) is a center for the creation and promotion of experimental electronic music, supported by the French Ministry of Culture. Its activities include commissioning sound installations, music for dance, multimedia, video and cinema from members and guest artists.
Clockwise from top left: Thierry Besche, Jean-Marc Padovani, Nicolas Vérin, Marc Pichelin.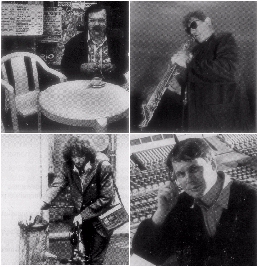 GMEA's aim is to develop "an attitude of active listening, to highlight and maintain the sonic patrimony of the environment, a town, a county, an activity, ...."
Musique des Vignes, or "Music of the Vines" is GMEA's first recording of its Landscape Music series.